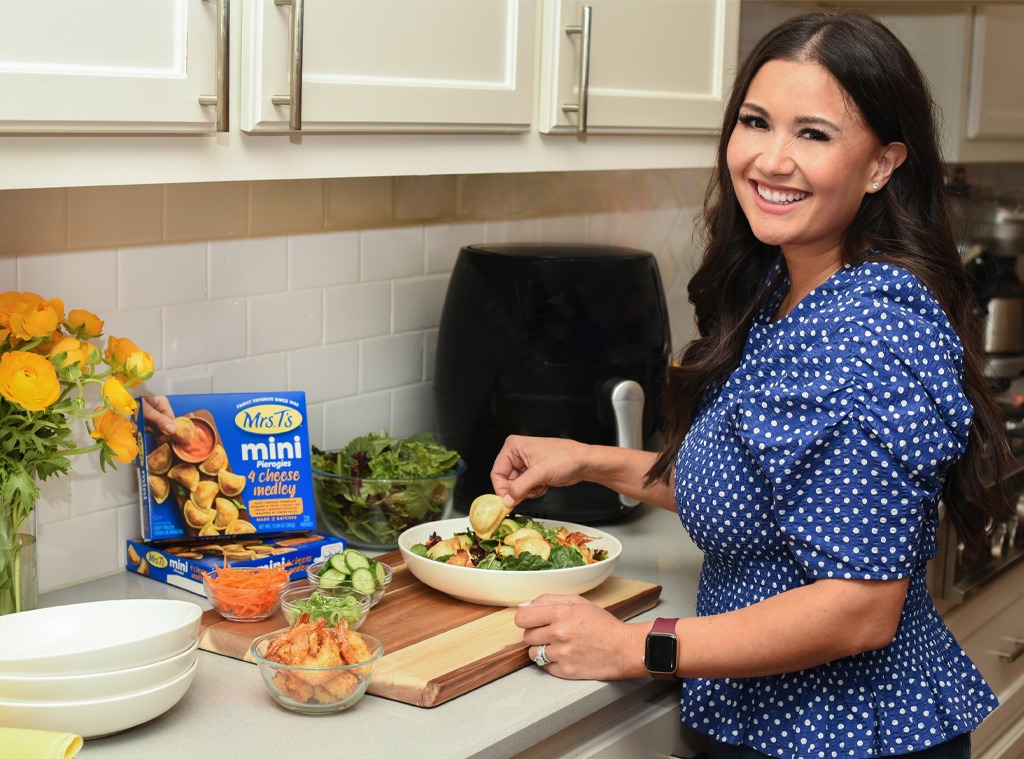 Courtesy of Mrs. T's Pierogies
We interviewed Catherine Lowe because we think you'll like her picks at these prices. Catherine is a paid spokesperson for Mrs. T's Pierogies. E! has affiliate relationships, so we may get a commission if you purchase something through our links. Items are sold by the retailer, not E!. Prices are accurate as of publish time.
Parenthood is full of many rewarding experiences, but being a mother isn't the sole component of anyone's identity. The Bachelor alum Catherine Giudici Lowe is all about finding balance between making time for herself, her three children, and her husband Sean Lowe. That's why Catherine teamed up with Mrs. T's Pierogies for the All-Star Moms campaign, which celebrates moms by providing up to $15,000 in grant money for them to invest in their hobbies and interests.
Catherine told E!, "I love to play piano, so having the opportunity to work with Mrs. T's to honor the moms doing it all by giving them grants to invest in the hobbies they love, is something I'm truly passionate about."
Catherine elaborated on the importance of this campaign and she shared her Mother's Day gift picks with E! in case anyone is looking for some shopping inspiration.
E!: How are you celebrating Mother's Day this year?
CGL: This year we are going to spend Mother's Day together at home. We will probably try out a new game/activity as a family and relax together. Maybe I'll even ask my kids (or Sean) for a massage at the end of the day!
E!: Tell us about your partnership with Mrs. T's Pierogies. 
CGL: I have been a Mrs. T's Pierogies fan for years, since I lived in Seattle! They are a go-to in my house. So, when the brand approached me about teaming up for the second iteration of Mrs. T's All-Star Moms campaign, I was thrilled and so honored. Being a mom to three beautiful children is so rewarding and fulfilling, but it's not always easy to make time to pursue things I personally love, which is why this year's All-Star Moms campaign really resonated with me.
E!: Explain why it is so important for moms to make the time for their own personal interests aside and tips for moms to have more balance in their lives.
CGL: A recent Mrs. T's survey found that 95% of moms have some type of hobby, but almost all of them (87%) experience barriers that get in the way of pursuing their hobbies and interests. With the leading barriers being other responsibilities, lack of time and lack of money, Mrs. T's wanted to get moms back to their hobbies with All-Star Mom grants leading up to Mother's Day.
I'm a huge fan of making time for myself. Two ways I do this is by bundling my hobbies with other activities in my day and by carving out little nuggets of time throughout the day that I devote just to me. For instance, I love to whip up a recipe, like my Air Fried Mini Pierogi Shrimp Tempura Bowl, while I read over the sheet music that I will practice that day on the piano. 
Personalized Cotton T-shirt
E!: What's a great gift under $50 that you would recommend?
CGL: A shirt printed with your kids' faces on it. We have given this to many family members in the past and it is always a hit!
E!: Are there any fellow Bachelor Nation moms who have given you some great advice on motherhood, either in general or in specific regard to being a public figure with kids?
CGL: I have not received any advice directly, but I have watched Jade Roper Tolbert with her kids and have even taken a family trip with Jillian Harris. All of the Bachelor Nation moms are superheroes!
E!: What are three items you always have with you as a mom?
CGL: Candy, water and wipes.
Apple AirPods & Apple Watch
E!: What's a gift you've received that you get so much use out of?
CGL: My Apple AirPods or Apple Watch.
These AirPods have 430,000+ 5-star Amazon reviews and the Apple Watch has 15,100+ 5-star Amazon reviews and there are multiple colors to choose from.
Antica Farmacista Hand Wash
E!: If you only had 2 days to get a Mother's Day gift, what are you ordering from Amazon Prime?
CGL: An Antica Farmacista luxury diffuser or soap!
This soap comes in 20 luxurious scents.
Antica Farmacista Home Ambiance Diffuser
"I absolutely love diffusers as they are perfect for moms of younger kids. You are able to enjoy the wonderful scent but don't have to worry about your kids being around an open flame," Catherine said.
There are seven beautiful scents to choose from.
E!: What's your number one piece of advice for new moms?
CGL: Be present and be grateful, being a new mom is a difficult time with sleep deprivation and many stigmas attached to it. You just have to remember that changing a dirty diaper is a privilege that so many would love to have.
E!: Which fictional mom represents you the best and why?
CGL: I would say I am a mix between Kitty Forman from That '70s Show and Debra Barone from Everybody Loves Raymond. Kitty loves her kids and is very fun and playful while Debra is more cynical. I feel like I am a total mix of the two.
Catherine Lowe's Mother's Day Gift Picks
While you're Mother's Day shopping, keep Catherine's recommendations in mind.
DateBox Club
"Plan a date night and get away from the hustle and bustle of it all! If you are unable to leave your home, feel free to plan a stay-at-home date night with your partner," Catherine advised.
If planning dates isn't your thing or if you just want some new ideas, get a DateBox. They send everything you need for an enjoyable night with your significant other. Get one to test it out and if you're feeling it, you can subscribe for monthly deliveries.
Personalized Mugs
The mom of three explained, "This is a simple and creative way to use your photos! Each year I purchase a mug and personalize it with photos of the kids and watch them grow year after year."
Functional Items
Catherine said, "This can be anything that mom is needing from a cover for her laptop to items in the kitchen, etc. If the item is able to be personalized, even better!"
Spa Treatments
Catherine shared, "No mom would say no to a spa treatment! In order to elevate the experience, schedule the appointment for her instead of just purchasing a gift certificate. This way, she is able to just sit back, relax and get pampered."
Mrs. T's Pierogies
"One of my favorite ways to show the women in my life I care is to make them a meal. I personally love using Mrs. T's Pierogies, especially in my recipe for an Air Fried Mini Pierogi Shrimp Tempura Bowl, as they are quick and easy to make but also are loaded with delicious flavor," Catherine said.
Handwritten Cards From LoweCo
"Cards are incredibly important to me, so much so that I started my own card company called LoweCo. A handwritten card with signatures from your loved ones is a very meaningful gift," she said.
If you're looking for more Catherine-inspired shopping, she also shared some must-have kitchen products with E!.
Want the latest and greatest deals and celebrity must-haves delivered straight to your inbox? Sign up for the Shop With E! newsletter!
Credit by : The Bachelor 's Catherine Lowe's Mother's Day Gift Picks Remind Moms To Make Time for Their Hobbies