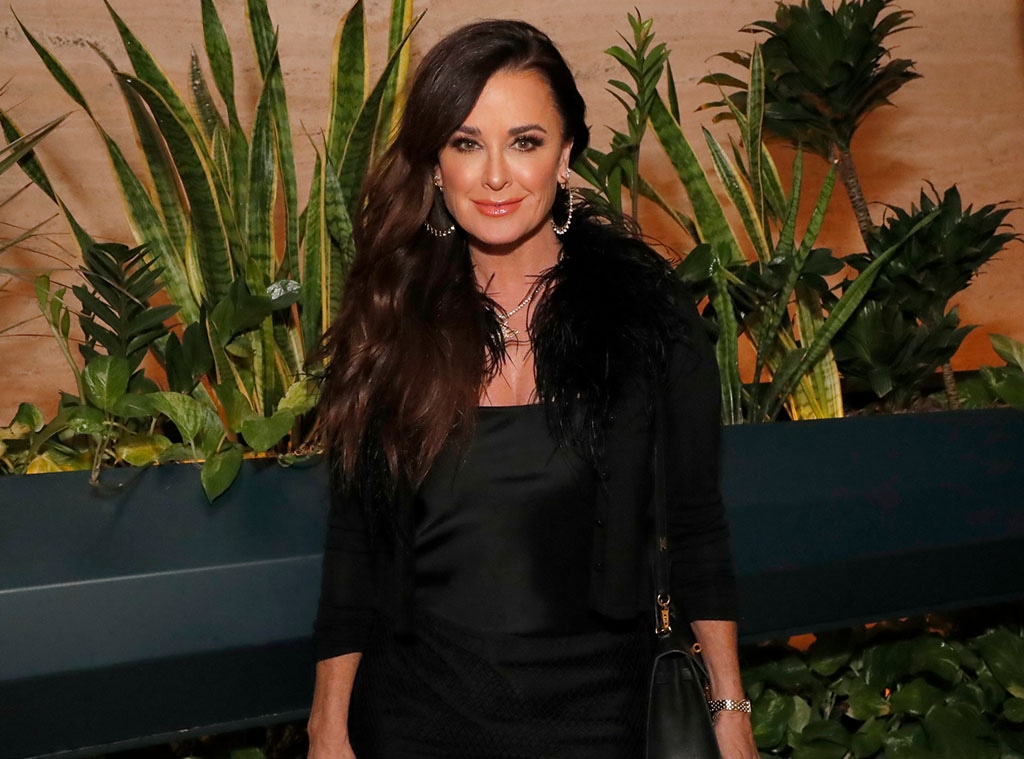 Astrid Stawiarz/NBCUniversal/NBCU Photo Bank via Getty Images
We included these products chosen by Kyle Richards because we think you'll like her picks at these prices. Kyle is a paid spokesperson for the Amazon Influencer Program. E! has affiliate relationships, so we may get a commission if you purchase something through our links. Items are sold by the retailer, not E!. Prices are accurate as of publish time.
Almost every Real Housewives of Beverly Hills season includes a "barbeque" hosted by Kyle Richards, except that it's never actually a barbeque. There's nothing remotely casual about her backyard events and the grilling doesn't always happen, but, does it matter if an actual barbeque occurs? No, not at all since Kyle goes all out as a host and the parties are always must-see TV for the Bravo fandom. 
"There's always a joke about how I always say I'm having a barbeque, people get here and I'm not having a barbeque. That's because it's really hard to entertain with the cameras and having to juggle so many things," Kyle said during an Amazon Live session. She's in on the joke and she's a detail-oriented hostess, what more could we want? 
Kyle insisted, "We really do actually barbeque and entertain outside." If you want to host a fabulous, non-barbeque at Kyle's level of fabulosity, she shared all of her must-haves with Amazon shoppers.
TL;DR: here are Kyle Richards' most-popular Amazon picks.
1. Brightown Outdoor String Lights- 38,700+ 5-star Amazon reviews.
2. YIWER Flameless Candles- 18,800+ 5-star Amazon reviews.
3. Keter Outdoor Side Table with 7.5 Gallon Beer and Wine Cooler- 14,800+ 5-star Amazon reviews.
4. Le Chateau Red Wine Decanter Aerator- 4,000+ 5-star Amazon reviews. 
Kyle Richards' Outdoor Entertaining Essentials
Keter Outdoor Patio Furniture and Hot Tub Side Table with 7.5 Gallon Beer and Wine Cooler
"Look at how awesome this is. You can pull the top up and put ice in there. I love that it saves so much space. It's such a cool thing to have."
This side table has 14,800+ 5-star Amazon reviews.
JHY Design Set of 3 Metal Candle Holders
"I have these in my home and at my house in Aspen. It's a set of three candle holders. They're so pretty. When the light is inside, they give a great effect and a great ambiance for outdoor entertaining. Sometimes, I use fake, flameless candles so they don't blow out in the wind."
YIWER Flameless Candles With 10-Key Remote Control with 2/4/6/8-hours Timer Function, 300+ Hours
"If it's windy, you may want to use these flameless candles. These are great. They look flickering, like real flames. They just give such a great vibe. Lighting is everything for a party. It's my number one thing."
These flameless candles have 18,000+ 5-star Amazon reviews.
LVTXIII Outdoor/Indoor Pillow Covers
"These are in a pack of two. I always go for a neutral color with my sofas and loungers. Then, I add fun pillows. For the summer, I love the blue and white covers. They're fresh and pretty. It's very summer-y and a great vibe. It's a great Mykonos vibe."
There are 23 colors and 2 sizes to choose from.
Miulee Pack of 2 Outdoor Pillow Inserts Waterproof
Kyle also recommended this waterproof pillow in the lumbar style. 
LVTXIII Outdoor/Indoor Lumbar Pillow Case Covers
"Growing up in LA, I cannot help looking at these and thinking about the Beverly Hills Hotel. These are awesome to bring in the nature with green. I would add a little pink. These are super super fun and a great, great, great vibe."
There are two sizes and 24 colors to choose from.
Esuper Floating Pool Lights Inflatable Waterproof IP68 Solar Glow Globe
"The pool is the center of backyard entertaining. I will have things floating in the pool. Sometimes, I will have flowers sometimes. Throw these in the pool to create a really great ambiance. You have probably seen these in the show at my white parties. They're solar-charged and they light up."
These lights have 1,700+ 5-star Amazon reviews.
Pohopa Bluetooth Speakers Waterproof- Set of 2
"These lanterns are great to light up your backyard and patio stairways. I love them. They're so fun and they play music."
These lanterns have 3,000+ 5-star Amazon reviews.
Citronella Outdoor Candle, 3 Wicks Natural Soy Wax Candle, 75 Hours Burn
"Citronella candles an absolute must when you're entertaining. They smell nice and they keep the bees away. I have these whether it's daytime or nighttime when I'm entertaining. These are great and they're pretty. I love the blue and white."
Brightown Outdoor String Lights 25 Feet G40 Globe Patio Lights with 27 Edison Glass Bulbs(2 Spare), Waterproof
"String lights are so much fun. I love string lights. They just automatically make it feel like a party. You can drape them anywhere. More lighting creates a good vibe. I always feel like I'm on the patio at a restaurant when I have the lights on." 
These lights have 38,700+ 5-star Amazon reviews.
Smirly Bamboo Cheese Board and Knife Set: Extra Large Charcuterie Boards Set & Accessories
"This is so cute. If you guys know me, I always have a cheese board out. Always, always, always. This is great when I entertain and when I cook for my family."
Cuisinart CPS-515 Deluxe Pizza Grilling Pack (Pizza Stone, Pizza Peel, Pizza Cutter)
"This is a really fun thing to have, the Deluxe Pizza Grilling Pack. This is a fun activity with friends or your kids."
Gibson Home Gracious Dining Dinnerware, 3-Tier Rectangle Plate Set with Metal Stand, White
"This is a great platter for serving sliders, dips, and tacos. It's a great dessert tray. It's so beautiful. It's getting me so excited for summer entertaining."
Annovero Dinner Plates, Set of 6 Porcelain Plates, 10.5 Inch Diameter
"These are great dinner plates. Look at how pretty and festive they are. Whenever I entertain in the summer, I love to do different plates around. I like to have a bunch of different colors outside. Look at how gorgeous these colors are. I absolutely love these plates."
These plates have 2,300+ 5-star Amazon reviews.
Bettlife Matte Rose Gold Silverware Set- 20 Pieces
"Look at how great this silverware set is that I love, rose gold. Can you see how fun this is? These stand out on your table. I love the shape of these. They're super cool and modern."
This set also comes in gold, black, and silver
Kingrol 6 Pack 15 oz Romantic Water Glasses
"These glasses, I absolutely love. These are opalescent. These are so pretty. They're rainbow-y."
Lipper International Acacia Wave Serving Bowl
"This is a beautiful, wood, salad bowl, which I absolutely love. It's gorgeous, it's durable, and we love it. A wood salad bowl is always a must on a table. I think it affects the taste of the salad too, so it needs to be in a wood bowl."
This Amazon Best Seller comes in two sizes and it has 2,400+ 5-star Amazon reviews.
One to Last Drip-Free Glass Water Pitcher with Lid
"This is a beautiful pitcher. It has bubbled glass and a beautiful, brass top. I always like to have pitchers going down the table. I like to have three on a table with water. These are absolutely gorgeous." 
This pitch comes with a cleaning tool.
Terra Flame Tabletop Fire Bowls
"You're going to love these. They're white, tabletop fire bowls for indoor and outdoor. They're so fun. I love them. They're so beautiful. You can use it to make s'mores."
There are five colorways to choose from.
Bourina Decorative Diamond Lattice Faux Cashmere Fringe Throw Blanket
"I always keep these in my guest closet. I like to be able to grab throws or blankets just in case people are cold. These are so cozy and cute. You can put them in a basket outside, so people can grab them if they're cold. They're so comfortable."
This blanket comes in 11 colors and it has 2,800+ 5-star Amazon reviews.
Rukars Floating Pool Lights- Set of 2
"How fun are these? They light up. They charge outside during the day (from solar power) and then at night, they will light up. They're so cute." 
Allsop 31598 Soji Stella Market Handmade LED Outdoor Solar Lantern, 12X12,
"This lantern is so fun. It's solar-powered also. They look so cute at night. These are really easy to hang. They come in different sizes."
There are 7 colors to choose from.
CoTa Global Inflatable Pool Float
"This is so so so fun with the gold glitter inside. These are great for a birthday or graduation."
There are three colors to choose from. This float has 2,000+ 5-star Amazon reviews.
Melamine Dinnerware Set 12-Piece Plates and Bowls Set, Indoor Outdoor
"These are awesome. When you're entertaining, it's great to have things that looks like ceramic or glass, but these are plastic. Your drunk friends who will drop these won't break them. They're safe by the pool. They're pretty and great for the outdoors."
US Acrylic Palmetto 20 Ounce Plastic Stackable Water Tumblers
"These plastic cups are safe by the pool. This is a pretty design." These cups have 2,500+ 5-star Amazon reviews.
Clean Dezign Large Salad and Serving Bowl with Bamboo Wood Lid and Servers Set
"This is great for pasta. I love the lid. This is a great bowl and the lid keeps the bees and flies out. This is easy to take to your friend's house. It has spoons. You can use the lid as a cutting board too. Or use it as a cheese board. That is a great bowl."
This also comes in grey and there are two sizes to choose from.
Le Chateau Red Wine Decanter Aerator – Crystal Glass Wine Carafe – Full Bottle Wine Pitcher
"Something that makes me feel really fancy is a carafe. Pouring your wine from the bottle into these lets the wine breathe and it looks so beautiful."
This decanter has 4,000+ 5-star Amazon reviews. 
WoodAble Disposable Wooden Cutlery – 480 Count (240 Forks, 160 Knives, 80 Spoons)
"My family doesn't use single-time use plastic in our house. These are wooden and they're great for parties and they show you're trying to make a difference. They're pretty and they work well. We're doing our part for our planet."
This set has 1,000+ 5-star Amazon reviews.
If you're looking for more affordable finds from Kyle, she shared her Amazon self-care essentials.
Want the latest and greatest deals and celebrity must-haves delivered straight to your inbox? Sign up for the Shop With E! newsletter!
Credit by : Real Housewives of Beverly Hills ' Kyle Richards Shares Affordable Outdoor Entertaining Essentials