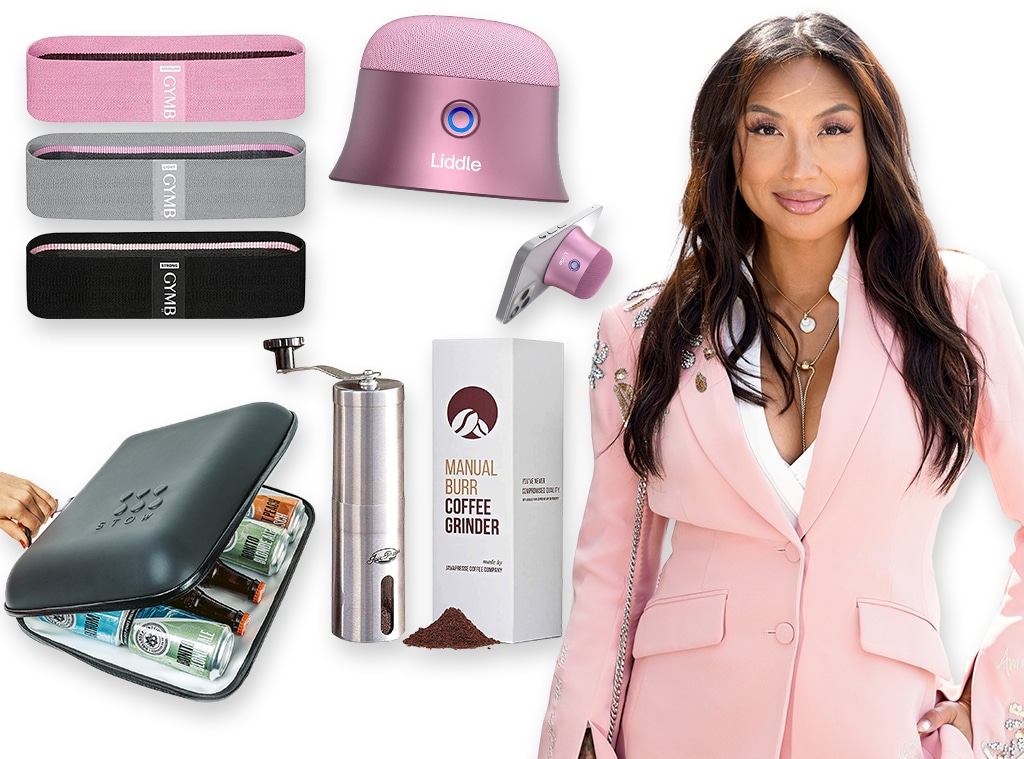 Jared Siskin/Getty Images for Cinq à Sept
We interviewed Jeannie Mai Jenkins because we think you'll like his picks at these prices. Jeannie Mai Jenkins has a paid partnership with Amazon Launchpad. E! has affiliate relationships, so we may get a commission if you purchase something through our links. Items are sold by the retailer, not E!. Prices are accurate as of publish time.
The Real host Jeannie Mai Jenkins is about to celebrate her first Mother's Day since welcoming her daughter with Jeezy in January2022 When asked about her holiday plans, the new mom told E!, "I like to be surprised. I haven't had this conversation with my husband yet, but I want Mother's Day to be bigger and badder than my birthday, explaining, "I want to bask in attention and love for Mother's Day because I really feel like it's the only accomplishment in life that can make you feel more dynamic than anything else."
If that sounds like your kind of Mother's Day, Jeannie shared her gift picks from small brands, startups, and entrepreneurs on Amazon Launchpad. The star explained, "Ever since I shared that I was pregnant, the gifts that I received include the best diaper cream, the best diaper bags, the best matching clothing. That's all great and I appreciate the reliable recommendations, but the Mother's Day gifts I picked are all about not losing myself in the process of parenthood. My gifts are things that I think dope moms should just be using."
Specifically, Jeannie emphasized, "Everything in my list is not just for your mom side. It's not just for your baby. It's for you, as a human being."  Keep on scrolling to learn more why she chose some of the items and find out more about her life as a new parent. Click here to see Jeannie's entire list, including a beverage cooler suitcase, a wine chiller, self tanner, and a tie-dye kit.
E!: I appreciate that you're one of those people who doesn't keep the products she uses a secret. As soon as you find something that works, you always share it with us.
JMJ: I tell your mom, your cousin, your neighbor, and put it on my bio. yes.
E!: Tell me about teaming up with Amazon Launchpad.
JMJ: It was so cool to start working with them because I've already been using it and I have always thought somebody should curate a list for me. So, to do it myself for others out there was everything.
JavaPresse Manual Coffee Bean Grinder with Adjustable Settings
"This coffee grinder is really cool because it's a manual coffee coffee grinder. I just love delicious, delicious coffee. While the baby's asleep, I'll grind my own cup of beans. I have a bunch of different flavors. I pick the one I want for the day and I grind it up. It's a little luxury and a small accomplishment that I feel good to complete every morning."
This coffee grinder has 13,800+ 5-star Amazon reviews.
The Original Liddle Bluetooth Speaker Magnetic and Wireless Enhanced with Bluetooth 5.0 Chip for Sound Quality 8 Hours of Playtime World First Magnetic Bluetooth Speaker
"This is a portable speaker that you can use in the car, on a little hike, or you can even strap it to your stroller, so you can get some of your own tunes, especially if your baby is an infant like mine. I can still listen to the adult version of songs for a little bit longer."
This speaker also comes in black and silver.
GYMB Booty Bands for Women – Non Slip Resistance Bands to Work Out Glute, Thighs & Squat
"These booty bands are great. My booty is shaped a little different after birth. I love doing workouts right there in front of my baby, so I don't have to go anywhere. I don't need a trainer to come over. I don't need to go deep into some workout machine. I can do work out right there with these bands."
These bands are available in two color combinations and they have 21,300+ 5-star Amazon reviews.
Naturewell Vitamin C Brightening Moisture Cream for Face, Body, & Hands, Visibly Enhances Skin Tone, Helps Improve Overall Texture & Provides Lasting Hydration
"I also love a brightening cream. Brightening Cream I picked was so important because the one thing that can get sallow and kind of dark are those dark circles under your eyes. Something to brighten and fresh up your skin is great because you're giving yourself five minutes in the morning to wake yourself up. It's so important."
This cream has 8,600+ 5-star Amazon reviews.
Kate Rose Beyond Sunscreen
"Sunscreen is important. I am encouraging women not to stay in the house and to get outside more often. It really helps with the energy, the lights and breathing fresh air. Taking the baby out in the stroller might mean you have more time outside than you did before. That's another reason to wear your sunscreen."
E!: What do you love about using Amazon Launchpad? There are so many great features.
JMJ:The thing I love most about Amazon Launchpad is that the products have already been tried, tested. and vetted out. Something I love is that I can match the product with the personality of the person that I am shopping for. The expertise and the support is just so good in all areas. It's also great to support small brands and startup entrepreneurs. It makes me feel like I'm giving back and supporting like myself because I'm an entrepreneur too. I have my own products that I'm telling my fans about, so I want to always support other women out there. And it also is so good with curating unique products that I haven't seen before in every category. There are things for the home, beauty products, electronics, sports equipment, and even food and drinks.
E!: I have always found your relationship with your mother to be so endearing and compelling. How has becoming a mom changed your view on Mother's Day in regard to celebrating your own mom?
JMJ: I feel like I could have done so much more for my mom every Mother's Day. I always thank my mom from the from the from the perspective of "I'm your daughter, so thanks for keeping me alive." But, I've never thanked her from a mother to a mother for not giving up and for never walking away. I'm like "Mama, you created Jeannie Mai Jenkins." I believe I have the career that I do, the opinions that I do to the laughs in the stories that I do because of my mom. I am so much more to thank her about. It's so much more now.
While you're shopping, check out our favorite deals from the Nordstrom Rack Mother's Day Shop.
Want the latest and greatest deals and celebrity must-haves delivered straight to your inbox? Sign up for the Shop With E! newsletter!
Credit by : Jeannie Mai Jenkins' Mother's Day Gift Picks Remind Moms To Take Care of Themselves