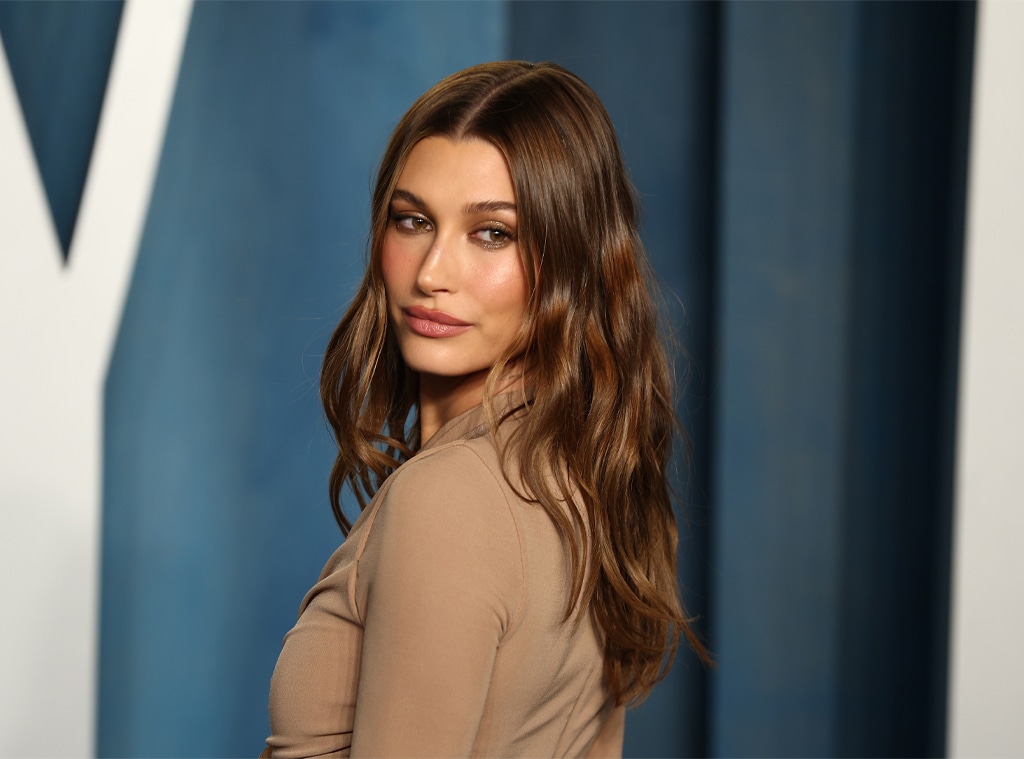 Arturo Holmes/FilmMagic
We included these products chosen by Hailey Bieber because we think you'll like her picks at these prices. E! has affiliate relationships, so we may get a commission if you purchase something through our links. Items are sold by the retailer, not E!. Prices are accurate as of publish time.
We can't get enough of Hailey Bieber's recent skin care and beauty tips. This is the content we need to hold us over while we patiently (ok, fine, impatiently) wait for the drop of her Rhode skin care line in June.
Hailey recently teamed up with TikTok skin care guru Hyram on her own Youtube channel in addition to the team at Allure on their channel to share helpful and super attainable beauty tips and tricks with us, her glazed-donut-skin-obsessed fans.
Hailey's tips include advice that can be applied to all aspects of life like "always take your skin care routine seriously, but never yourself," practical tips like "always (and I do mean always) remember to double cleanse," and, of course, "always make sure you look like a glazed donut before you go to bed."
From face tools to sunscreen to cleansers and serums that work great for dry, sensitive skin like Hailey's, the model also shares some of her favorite skin care products. Scroll below for skin as scrumptious and glowy as a glazed donut.  
Hers Clear Waters Hydrating Cleanser
This product features hyaluronic acid, squalane, and green tea extract which are three ingredients that Hailey and Hyram say they love. Hyram says that if your skin feels tight after cleansing, that's not a good sign because it means the product is drying out and stripping your skin. This cleanser feels hydrating to both Hyram and Hailey. Hailey even says she "might just have to put it into the routine."
Selfless by Hyram Retinol & Rainbow Algae Repair Serum
Hyram says he wanted to create something to fight skin damage while still being very gentle for people with sensitive skin, like Hailey. Although this serum includes a retinol, it's a really gentle form so you can use it everyday. After they both use the product, Hailey says: "This feels super nice. It doesn't feel dehydrating at all."
Face Massager Roller Golden 3D Roller Electric Facial Roller and T Shape Facial Roller Massager Kit
Hailey and Hyram rave about how satisfying the vibrating t-shaped roller feels on their skin. In addition to loving how relaxing the tool is, Hailey and Hyram also say that face tools like this one helps your skin absorb your skin care products more efficiently. Hailey loves to use these over a sheet mask and even before work if she has time in the morning. Hailey also loves ice rolling to de-puff the face. She says ice rolling also helps with anxiety, helping her to start her day off on a positive note.
The skincare duo also tries out the rolling massager. Hailey says an esthetician told her that the motion of pinching is great for stimulating collagen-production in the skin, and this tool mimics that motion. She says when using this tool on her jaw, it feels like it's "snatching" her jawline, and who doesn't want a snatched jaw?  
Jade Roller Gua Sha Set – Facial Skin Care Set, Facial Beauty Tools, Natural Beauty Skin Care Tools, Face Roller Massager for Face, Neck, and Eye Treatment (Black)
In fact, one of Hailey's top beauty tips that she shared with Allure was to "always use face tools for a spa night at home." Here's a jade roller similar to the one Hailey uses in the video. 
IT Brushes For Ulta Airbrush Brow/Lash Styler #118
Hailey says on the days when she doesn't wear makeup, she still brushes up her brows. 
Starface Hydro-Stars Compact 32ct
Hailey says: "Always take your skin care routine seriously, but never yourself." These yellow star pimple patches are so cute, and they also work wonders on blemishes. 
Eucerin Skin Calming Cream – Full Body Lotion for Dry, Itchy Skin, Natural Oatmeal Enriched
Hailey says that she has dry skin, so it's no surprise that one of her beauty tips is to "always have body lotion on-hand." 
EltaMD UV Clear Facial Sunscreen Broad-Spectrum SPF 46 for Sensitive or Acne-Prone Skin, Oil-free
In the Allure beauty tips video, Hailey says: "Always protect your skin. SPF is not optional." Hailey and other celebs say they love this bestselling sunscreen. 
Chia + Moringa Algae Enzyme Cleansing Oil
Another one of Hailey's skin care tips? "Always (and I do mean always) remember to double cleanse," she says. Hailey shared that she uses this oil-based cleanser to take off her makeup and wash her face. Hailey says that using a cleanser to remove her makeup instead of makeup wipes has made the biggest positive difference in her skin. 
Want the latest and greatest deals and celebrity must-haves delivered straight to your inbox? Sign up for the Shop With E! newsletter!
Credit by : Hailey Bieber's Latest Skin Care Tips