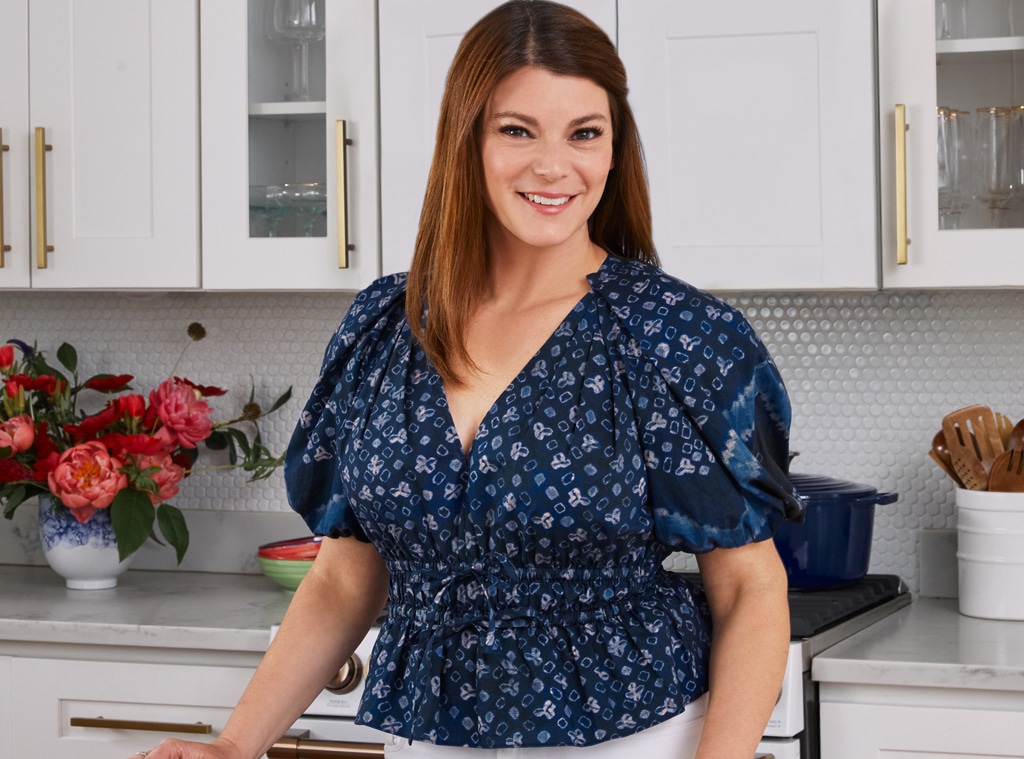 Genova Premium Tuna
We interviewed Gail Simmons because we think you'll like her picks at these prices. Gail is a paid spokesperson for the Genova Premium Tuna. E! has affiliate relationships, so we may get a commission if you purchase something through our links. Items are sold by the retailer, not E!. Prices are accurate as of publish time.
If you're looking for a knowledgeable opinion, Top Chef judge Gail Simmons is your girl. The culinary expert, author, and mom just happens to be an expert source of information on a variety of different topics. In an exclusive interview with E!, Gail shared the five things she can't live without and she shared the must-have beauty product that she relies on to get through long days on the Top Chef set.
And, of course, Gail came through with a premium food recommendation, as if we'd expect anything less. The Bravo star said, "I'm excited to be teaming up with Genova Premium Tuna to bring you the Mediterranean dinner party of your dreams. Featuring my go-to hostess recipe and custom Mediterranean-inspired dinner party decor, you'll be exploring the tastes and sights of the Mediterranean right from your own home."
Click here for your chance to enter the contest and to learn more about Gail's partnership with Genova Premium Tuna.
Maybelline Instant Age Rewind Eraser Dark Circles Treatment Concealer, Brightener
E!: Are there any beauty items you can't live without on the Top Chef set?
GS: This is my favorite drug store purchase, and I can't live without it on the Top Chef set. I'm a mom, so sleep is a rare commodity these days and a great concealer is vital! Maybelline Instant Age Rewind comes with its own sponge applicator and also has sunscreen in it. It makes my skin feel moisturized, while helping to hide some of those early mornings. I'm obsessed with this product!
E! Shopping Editors love this concealer and it has 96,500+ 5-star Amazon reviews and 1,900+ 5-star Ulta reviews.
E!: What's an under $30 kitchen tool that's a must-have in your eyes?
GS: The Williams Sonoma Flexible Spatula and mini spatula. I use lots of spatulas in the kitchen, of all sizes and materials. They not just for fish or mixing! 
Williams Sonoma
"I love a fish spatula for handling any delicate items, like fresh cookies with a perfectly golden bottom or anything with a crispy crust that you don't want to disrupt."
Williams Sonoma Ombre Mini Spatulas, Set of 4
"Mini rubber spatulas are also key to help scoop that last, hard to get bite of jam, sauce or nut butter at the bottom of the jar!"
These ombre mini spatulas also come in purple and blue. 
Genova Premium Tuna
5 Things Gail Simmons Can't Live Without
Genova Premium Tuna
"I can't live without Genova Premium Tuna in my kitchen. I like to keep on hand a high-quality tuna packed in olive oil, and this product delivers. It's all natural with minimal ingredients, traceable from ocean to plate and high in healthy fats, protein and Omega-3s, not to mention incredibly versatile. This is the perfect ingredient for when I need to whip up something quick for a family dinner or make a fun appetizer for a dinner party with friends. I love pairing it with rustic Romesco sauce that I make in the blender. It comes together in minutes!"
Follain Lip Balm
"I love this non-toxic skincare company and their lip balm is always in my bag! Their products are sustainable with natural ingredients and their lip balm protects my lips from the elements (sun, dryness!), both in summer and winter. It also smells great and isn't sticky!"
Clare V. Grande Fanny Bag
"This bag was a quarantine purchase and has become almost like my security blanket. I cannot live without it! I wear it as a cross-body and get stopped on the street all the time by people asking where I got it. Mine is the Black Perforated Grande Fanny bag. It's beautiful quality and fits everything I need on the go."
Fruition Dark Milk with Flor de Sal Chocolate Bar,
"If you love chocolate as much as I do, you understand why this is a 'can't live without.' Fruition a newer discovery of mine but will probably be in my chocolate rotation for a long long time. It's a beans to bar company in upstate New York, but ships nationally, and is well worth the shipping costs! I'm in love with the Fruition Spring Salted Dark Milk 56% bar. I'm usually a dark chocolate girl, but this milk chocolate has won my heart. They select ethically sourced cocoa beans and make their chocolate in small batches. My nighttime ritual now is to have 2 pieces of it right before bed. It's the best way to end the day!"
Burlap & Barrel Smoked Pimentón Paprika
"When you cook as much as I do, you know the importance of great spices! Burlap & Barrel spices are my must-haves. They are natural, fair trade, single origin spices, which I really appreciate. The company does a lot of custom spice blends too, but one of my favorites is their classic Smoked Pimentó Paprika. I've always thought that using these single origin spices are a fun way to travel the world while cooking at home!"
If you're looking for more Top Chef-inspired shopping, Kelsey Barnard Clark shared her kitchen essentials. 
Want the latest and greatest deals and celebrity must-haves delivered straight to your inbox? Sign up for the Shop With E! newsletter!
Credit by : 5 Things Top Chef Star Gail Simmons Can't Live Without