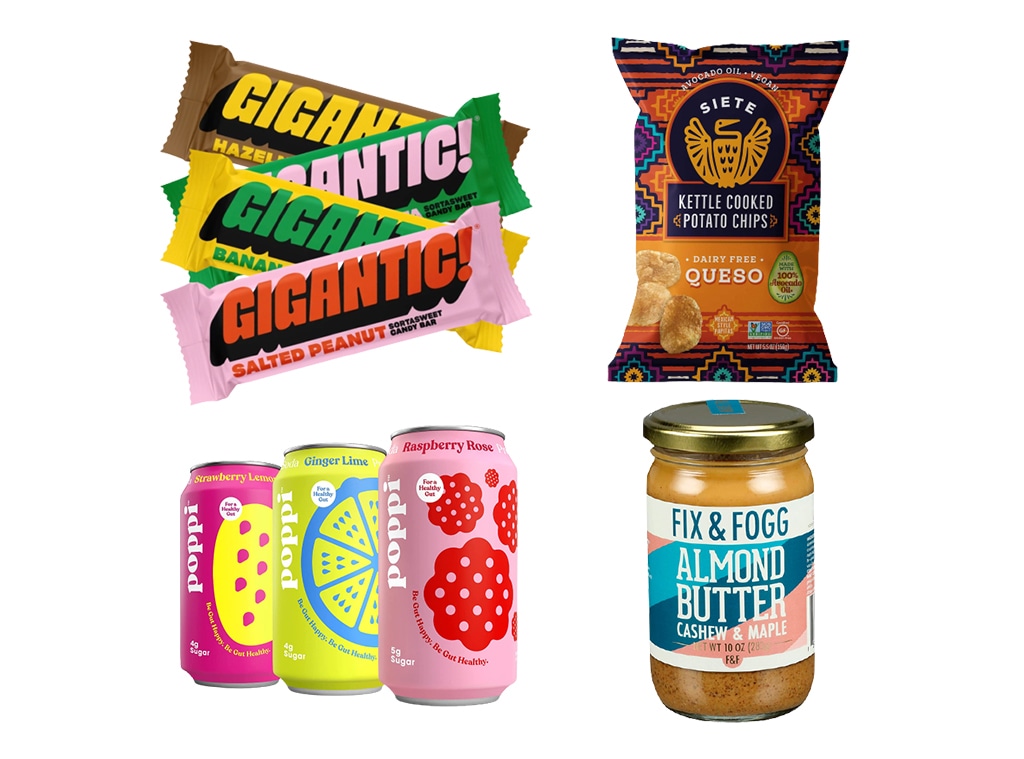 We love these products, and we hope you do too. E! has affiliate relationships, so we may get a small share of the revenue from your purchases. Items are sold by the retailer, not E!.
A change in lifestyle can come with challenges, and going vegan is no exception to that rule. And when it comes to making dietary changes, you might be wondering, "But what can I snack on?"
Fret not! We went on the hunt for a handful of sweet, spicy, crunchy and just all-around yummy vegan snacks to support your hunger needs, whether you're new to Veganism, or just looking for some new treats to sink your teeth into. There's overnight oats and baked goods, options for chocolate lovers and even some cheese-like treats for those having trouble giving up dairy.
Shop our vegan snack picks below and make sure you save room for everything you're about to buy!
Super Super Bar – Box of 7
Known for their bold, sustainable streetwear, Pangaia recently expanded into the wellness space, creating the only carbon-neutral and compostable superfood bar currently on the market. Packed with ingredients like sweet prickly pear, goji berries, sprouted red quinoa and gluten-free oats, this tasty treat will keep you energized in between meals.
Siete Grain Free Kettle Cooked Potato Chips (6 Pack)
Free of dairy, preservatives, gluten and dairy, but not of flavor, Siete is one of our favorite healthy brands to stock our pantries with. With four flavors, Chipotle BBQ, Fuego, Sea Salt, and Sea Salt and Vinegar, these kettle-cooked chips will spice up your snack game.
Mush (6-Pack)
Breakfast is the most important meal of the day and it can also be the most delicious one, thanks to Mush's overnight oats. Creamy, flavorful and containing minimal ingredients, they are the best way to start your morning on a nutritious and delicious high.
Poppi (12-Pack)
This Shark Tank-backed brand is revolutionizing the soda industry one can at a time. Made with fresh fruit and apple cider vinegar, each flavor contains five grams or less of sugar and are photo-ready, with vibrant colors and a chic design, so you can drink it for the 'gram and your gut. 
Aloha Peanut Butter Cup Protein Bar (12-Pack)
Our favorite childhood candy disguised as a protein bar? As Kelly Clarkson once sang: Some people wait a lifetime for a moment like this!
Purely Elizabeth Maple Almond Butter Granola (3-Pack)
If you would've told us when we were teens that we would wake up in the morning excited to eat granola, we definitely would've ignored you and continued watching reruns of Dawson's Creek on TBS. Alas, here we are, going to bed at night dreaming of our bowl or handful of these sweet and salty crunchy clusters that are lightly sweetened with coconut sugar and baked with coconut oil. 
Gigantic! Candy Bars
Once you go Gigantic!, you'll never go basic again. Their four flavors—salted peanut (our personal favorite), banana pecan, hazelnut cafe and almond horchata—have just seven grams of sugar and made with real ingredients. Candy that is good for you?! Your dentist is shaking!
Blender Bombs Cinnamon Roll Bomb Drizzle
Say hello to the syrup of our autumnal dreams. Made with maple syrup, almond butter, dates, aloe vera, cinnamon, this date-based sauce can be used as a topping on your ice cream, pancakes and baked goods or can be drizzled in your smoothies and coffee. Feel free to get drizzy with it ASAP.
Sakara Life Superseed + Nuts Collection (3 Pouches)
You can add a boost of plant protein and superfoods to any meal or amp up your mid-afternoon snack break with these versatile nut and seed blends from one of the chicest brands around. The three functional flavors are adaptogenic (sweet and savory), anti-inflammatory (rich and warm) and energy (herbal blend).
Hu Gems
We've written before about our obsession with Hu Chocolate, but sometimes you don't want an entire chocolate bar to satisfy your sweet tooth. Grab some of these Hu Gems instead, 'cause they're the same high-quality organic cacao, unrefined organic coconut sugar, organic fair-trade cocoa butter… and that's it. Warning/fact of life: you will eat the entire bag in one sitting.
Ancient Provisions Crackers (2-Pack)
We dare you to try these lil squares of cheesy perfection and tell us they don't taste exactly like Cheez-Its a.k.a. the flavor of your childhood. May we suggest pairing them with your favorite soup on a chill day? 
Fix & Fogg Cashew & Maple Almond Butter
We're not trying to be dramatic or anything but we would literally bathe in this nut butter if we could. It's that creamy and smooth. But, for now, we'll settle for slathering it on our toast, topping our pancakes with it, using it in our baked goods and just eating it straight from the jar. 
Lesser Evil Veggie Sticks (3-Pack)
Ranch lovers, rejoice! Made with organic olive oil, cassava flour and dairy-free dressing, these sticks are the perfect sidekick to any lunch. But hey, if you want to just eat the whole bag in one sitting, just know we see you because we are you. 
Sweet Nothings Single-Serve Smoothie Cups (12-Pack)
So, they say that these are smoothie cups, but we like to think of them as a solid vegan substitute for ice cream, reminiscent of those old-school single-serving cups we used to get in elementary school. Not only are they dairy-free, gluten-free and made without additional sugar, artificial flavors and colors or preservatives, but the ingredient listing made up of fruit and nuts. And that's it. This variety pack gives you five fab flavors to nosh on, but we highly recommend the coffee, peanut butter and chocolate (of course) as faves.
Mary's Gone Crackers (4-Pack)
Forget Mary, we've gone crackers for these crackers, which are made with just four ingredients: brown rice, quinoa, flax and sesame seeds. The variety pack includes original, herb, black pepper and jalapeno, meaning you'll have the perfect option for any charcuterie board you're craving. 
Ono Overnight Oats (8-Pack)
We don't know what kind of magic Ono is performing to pack 25 grams of plant-based protein in each little bag, but we're not going to question it. Plus, their four vegan flavors (mocha chip, blueberry muffin, rocky road and peanut butter banana split) are as decadent as they are delicious.
The Worthy Bowls 5.6-oz Plant Based Nutrition Bowls (12-Pack)
Thanks to Worthy Bowls, it's never been easier to get in your daily dose of fruits and vegetables. Each bowl has three plant servings, plus eight grams of fiber and protein.
JOI Almond Milk Base
Any vegan knows how important it is to have almond milk on hand at all times. To save ourselves extra trips to the grocery store, we use JOI's almond milk base when we need a milk alternative for baking, cooking or our morning cup of coffee. Unlike other almond milks, JOI's milk concentrate is made without preservatives, gums, sugar and additives.
Deux Enhanced Cookie Dough — Space Brownie
This vegan cookie dough is truly a gift from the cosmos! Whether you eat it straight from the jar (our favorite method) or bake it into ooey-gooey cookies, this addicting chocolate brownie flavor will make (almost) all of your problems seem lightyears away thanks to Four Sigmatic's Chill Cacao with Reishi Mushroom.
Siggi's Vanilla & Cinnamon Plant-Based Coconut Blend Yogurt
Swap your nightly ice cream for this plant-based yogurt—trust us! It tastes so good that you would never guess it's made with just 12 ingredients and has 10g of protein.
California Performance Co. V-Whey Vanilla Sundae
If you're looking for a tasty way to cool down post-workout, add some of this vegan-friendly protein powder to your smoothie or shake. The V-Whey Vanilla Sundae flavor will trick your brain into thinking you're enjoying a sugary treat when in reality, each serving has 22g of protein.
Need more snacking inspiration for friends and family? We also have goodies for low-carb snackers, keto kin, and all the snacks to satisfy Paleo people.
Want the latest and greatest deals and celebrity must-haves delivered straight to your inbox? Sign up for the Shop With E! newsletter!
—Originally published Feb. 21, 2020, at 3: 00 a.m. PT
Credit by : 21 Sweet, Savory, Salty and Spicy Vegan Snacks You Can Buy Online